Jun 28, 2017
Are You Here?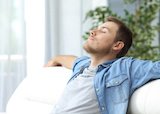 Take a moment and listen to the sounds around you… Do this before you go on to the next paragraph. It's okay, your life won't come to a halt, no matter what your mind might tell you. :-)
What did you experience?
If you truly stopped and listened to whatever sounds are in your current environment, you were free of thoughts and emotions, even if just for a few seconds. In those seconds, when you weren't referring to a "me" story about yourself, your past, future, or your current situation, nothing existed but the aliveness of this present moment.
You were just here, alert and present. Space opened up. Depending on how long you let your attention linger here, you felt a sense of calm, alive openness, even if just momentarily.
In order to listen, you had to let go of everything else in order to focus attention on sounds. This attention itself is what we actually ARE – alive, alert, open, spacious, intelligent Beingness.
To notice this Beingness, which is actually always here beneath the mental chatter, is a simple yet profound shift in perception.
What we usually consider "normal" is to live almost entirely in our minds. We pay attention to one thought after another, which creates the experience of a conceptual "me" which we then believe IS us.
However, at any moment, we can begin to notice the Space within which our thoughts, memories, emotions, body sensations, and experiences appear IN.
You can access this Space any moment you choose to stop and simply be alert to the sounds in your environment. Even if you don't hear a sound, the actual listening for one brings your attention to alert, aware stillness – your own alive Presence.
This Presence we are is always here. YOU don't come and go. YOU are eternal and ever present, here, now.