Jan 24, 2017
Where Is Peace?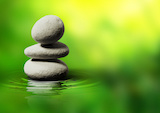 "Before you start to meditate, ask yourself a question: Is it true that peace and silence are not here now?
With our intention to move towards quietness, the first step we take is away from it because we assume it's not here already."
~ Adyashanti
In this moment right now, notice what is already quiet within you.
There may be thoughts, emotions, and body sensations, but what is aware of them? Notice awareness itself is completely still, quiet and at peace.
For just this moment don't reach for anything. Don't try to push anything away.
Let go. Let everything empty out. Notice the natural inclination toward openness which occurs when you relax.
Let go of trying to understand or attain anything. Give up all trying. ALL trying.
You can do all that later if you wish.
But for right NOW, just this moment, notice this empty, vast shiningness that is simply here, looking through your eyes.
It has no name, history, or preferences. No story. No limits. It can't be contained or restricted.
This is what is real and eternal. This is what we've all been seeking but didn't know it. This is YOU. Reality.
This has never not been and will never go away.
This YOU is also what I am, what we all are, what everything is in its essence.
You don't have to attain this. You already ARE this and could never be anything other than this.
The "me" we think we are seems to be real because we group together our thoughts, feelings, conditioning and experience of a body into a concept.
Then we believe that concept IS us.
If you say out loud or to yourself, "I am (your name)," notice what you experience within at the same time. If you really pay attention, you can notice a feeling of tightness in the body accompanying those words, and an experience of being separate from all other bodies and life itself.
We literally create a FEELING of separateness from believing our thoughts and our concepts of separateness.
Now ask within, "What am I really?"
Don't ask your mind. Ask TRUTH itself. Look for this "I" which goes by your name. What do you find? Do you find an actual entity or thing?
You might find a body sensation, thought, or an emotion. But can you find an actual thing that is you?
What you'll find if you look carefully enough and with a heartfelt intention to know the truth, is empty space. An unlimited, unencumbered, quiet, serene, alive, shining, intelligent, loving spaciousness that is all life.
And you don't have to attain this. You don't have to try to figure out how to be this. You already ARE this. Now. Always. Forever.
All we have to do is turn attention toward this which we simply ARE.