Let's Support Ukraine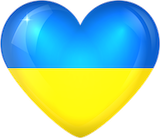 To everyone in Ukraine, and those who have had to leave their homeland amidst such dire circumstances (whether Ukraine or any country), my heart is with you. And I know that I speak for many many people around the world. We stand with you ALL in Spirit.
We send all love to you and your loved ones. May you know you are loved every step of the way. I will continue to envision you and your family saturated with Love, Safety and Protection.
And to those of us who are joining with the Ukrainians in Spirit, there are ways we can help:
1 … Spread Awareness Of The Situation
Show support for Ukraine on social media or wherever you feel drawn to.
You can download the blue and yellow Ukrainian heart here for free from Pixabay. Then post it on social media.
If you have a business and send a regular newsletter to your subscribers, you can share your support there.
2 … Donate Money
I know many are struggling with money issues right now, but even if you can just donate a few dollars, it helps.
The following is from Ken Evoy, the owner of Site Build It, my web host:
"Here are two organizations we researched in depth. You can rest assured that your money will be used to help the Ukrainian people, either in their own country or as they seek refuge in other countries.
SiteSell will make a sizable donation to these two organizations as well.
WCK provides cooked meals on the ground to communities impacted by natural disasters or humanitarian crises. Their mission is simple: "When people are hungry, send in cooks. Not tomorrow, today."
In support of refugees escaping the violence, WCK began serving hot, nourishing meals in Poland within a day of the initial attack and are now set up at eight border crossings. They are also looking into the possibility of delivering meals each day to families on the Ukrainian side of the border, waiting in line across the eight entry points.
This link takes you directly to WCK's donation page.
Polish Humanitarian Action (PAH)
Polish Humanitarian Action is a smaller charity based in Poland. They provide food and hygiene items along with other stuff that's needed, both in Poland and in Ukraine. They set up a permanent mission in Ukraine in 2015 and have been providing support there ever since.
Here's the link to donate directly to their Ukraine campaign.
3 … Get Actively Involved With A Relief Organization
You can find a list of them here."
Together, May we ALL Awaken to the Shining Loving Light of our True Being. Love and Blessings to ALL.